The Magdalen Islands archipelago
Climate, maritime environment, variety of bodies of water and more than 300 km of magnificent beaches to make this part of the country a paradise for sailing, board and wind sports.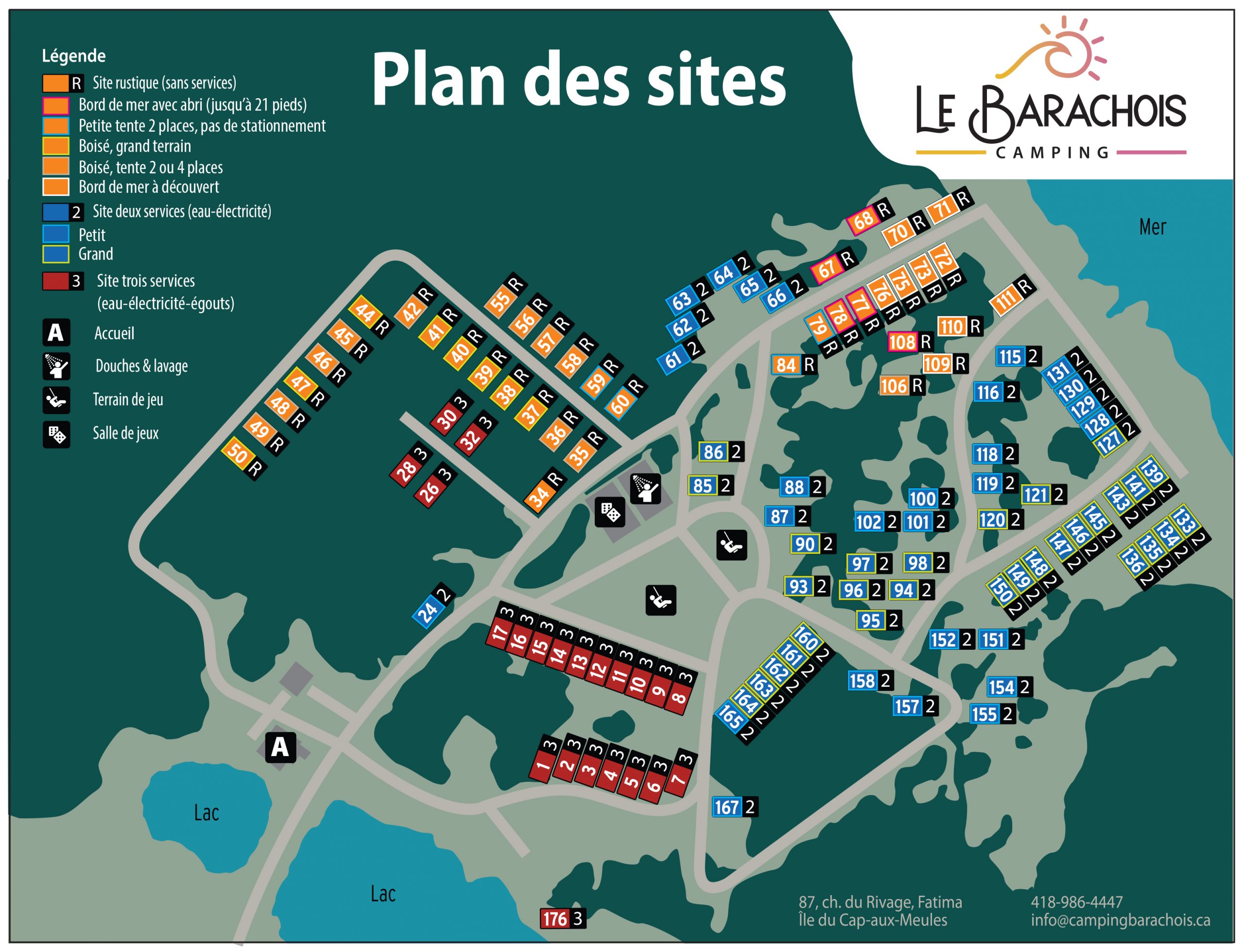 Nice setting. Clean facilities Stayed here for 5 nights and had a great site in a wooded area. Good privacy and there were marvelous sunsets also. Bathrooms and showers were kept very clean and the staff were very attentive. Wood was 9$ per large bag. There is a WiFi building which is free. Close to the ferry terminal and the owners were very flexible with check in and check out times.
JMark
Beautiful area We loved our stay at this very well maintained campsite. The showers and bathroom are very clean. The rate is very acceptable. The sunsets are spectacular. The campsite is very peaceful. (Translated with Google Translate)
C0ccynelle
Perfect for camping Friendly staff, very clean toilets / showers / laundry room. There are grounds with trees around which protect the tent from strong winds and you can park the vehicle directly on the site. This campsite is also well centralized for exploring the islands. Possibility to take a walk along the sea, ask the staff to guide you to find this trail. I recommend this campsite! (Translated with Google Translate)
Sherley T
"Camping with a capital C Our first contact with the islands are the people from the campsite! They are all very nice and Stéphane is a first class host. Some sites have a direct view of the sea, what more could you ask for? (Translated with Google Translate)
Enjoy2222
A simple and natural little corner with an extraordinary view. Having visited and loved this campsite before, we went back for three weeks and had reserved a pitch, although it was more or less suitable for us. Once there, the very nice Stéphane was incredibly dedicated. We were indeed more or less satisfied and he did a great job to meet our needs. We had to change location but we made this choice in order to enjoy the most beautiful sites on the seashore. The view is magnificent on the sunsets. All the staff are up to speed and very nice. The sanitary facilities are impeccably maintained. If the campers weren't careless, it would be as clean as at home. If I had a negative comment, it would actually be aimed at other campers, who seem to not understand the notion of good neighborliness when it comes to using services (electricity and water) that are not always located. optimally and can sometimes behave as if they were masters of the place. Long live the Madelinots way! (Translated with Google Translate)
Danielle D
Two wonderful weeks! We were there at the end of July, it was our second visit, the first was 11 years ago. This time we had a site by the sea, with an extraordinary view of the sunsets, but fortunately there were no strong winds. Very warm welcome by Stéphane who is of good advice. Well-maintained campsite, sites of various sizes, clean bathrooms despite being dated, beautiful community room with wifi, park for children, calm atmosphere to enjoy this beautiful nature. Very well located for visiting the Islands, access to a path along the cliffs, breathtaking landscapes directly in front of you. We loved our stay which was accompanied by an extraordinary temperature, we recommend! (Translated with Google Translate)
Marina010